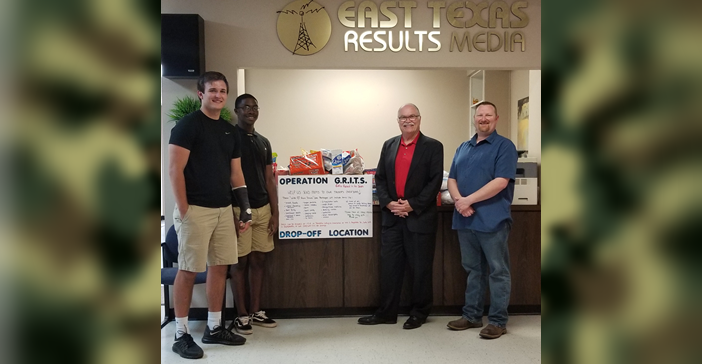 Jacksonville High School's National Honor Society students challenge all other high schools to meet or beat their donations to Operation GRITS, which is collecting donations to send care packages to our troops overseas.
Operation GRITS is a project comprised of volunteers from Texas to Atlanta. Some of us are military veterans, parents, and spouses of active and retired military, and some have no military connection but a love our country. What brings all of us together is our care and concern for our soldiers as they serve our country overseas, far from family and friends. We are extremely proud of each and every one of these men and women.
Jacksonville NHS visited our offices Wednesday afternoon to bring in an overflow of donations for Operation GRITS. At the conclusion of the drive, care packages will be created and sent to our military men and women — much-needed supplies and a little reminder of home to keep them going.
Their challenge is to other area high schools — but everyone is welcome to donate!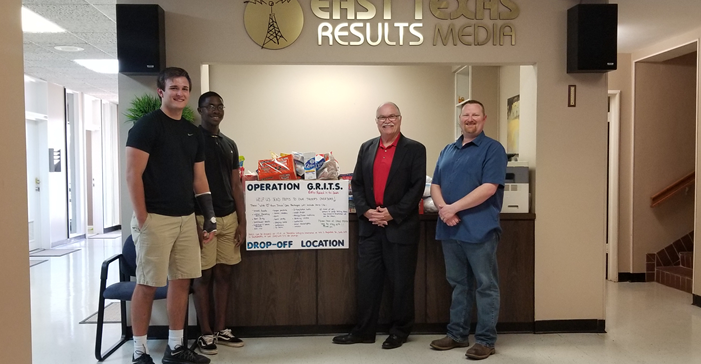 These "With Love from Texas" Care Packages will include items like:
• Snack Foods | • Water Flavoring Packets | • Beef Jerky | • Sunflower Seeds | • Trail Mix | • Ketchup and Sauce Packets | • Sugar Packets | • Ramen Noodles | • Gum | • Hard Candy | • Playing Cards | • Sunscreen | • Lip Balm | • Q Tips | • Cotton Balls | • Cough Drops | • Allergy & Sinus Medicine | • Dusting Cloths | • Batteries | • Small Flashlights | • Movies | • And most of all, letters and cards, to give an extra boost of confidence from home.

Tags: